Yesterday, a Selene 88 Fishing left its construction shed and was pulled out on its way to the Pearl River where the sea trials will take place. We could make an endless list of technical specifications from the gyrostabilizer to the generators or water makers. . . But it is not what a yacht is about. . . What is more important is that this Selene 88 is a blue water vessel designed to take 12 people to the remotest fishing grounds in style and safely.
One more time, the alliance of the Selene shipyard with Guido de Groot interior design, gave birth to a stunning and highly efficient dream machine capable of cruising beyond the horizon. This new Selene has no limits and the fuel tankage and all systems have been adjusted to the intended use by the owner who is an avid fisherman. . .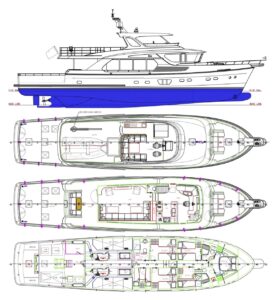 Long range and luxury
This new model takes the simple and proven concept of a fuel-efficient and seaworthy long-range yacht to the highest level of luxury that competes directly with the finest European shipyards, but with all of the advantages of FRP requiring less maintenance than steel or aluminum.
The Selene 88 Ocean Explorer sports twin engines, live fish tanks and a large dedicated fishing cockpit. She is an exceptional full displacement vessel ready to go in all aspects, fishing expeditions, extended offshore passages, remote cruising and even fishing charters. With 3,200 gallons of fuel and its extended range, the playground of this yacht will be the South China Sea and the Pacific Ocean.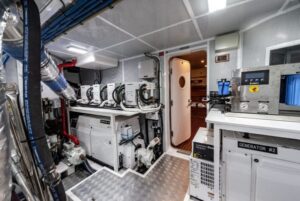 First class engine room
Knowing that this yacht will spend a lot of time at sea in remote regions of the world, we have invested a lot of time in the design of the engine room and systems. Our engine rooms are regarded in the industry as best in their class with good access, plenty of room to work with ease of maintenance and service in mind.
The technology geeks may like to know that this new Selene 88 has everything… Twin generators, twin engines, water maker, cutting edge electronics and a Jiwu gyrostabilizer. But is it worth to mention that all Selene always have the best gear and components?
There is a big difference between a recreational yacht and a true ocean-going vessel like a Selene. The ability to power with confidence across any sea or ocean in safety and comfort is chief among the reasons experienced boaters go to Selene, whether their adventures are coastal, global or somewhere in between. If you want to point the bow towards an endless voyage and pursue in style pelagic fishes of the remotest oceans of the world, the Selene 88 is your perfect vessel. Do not hesitate to contact us at info@seleneoceanyachts.com. . .